Product Spotlight
Artison Soundbar
Artison Soundbar SB1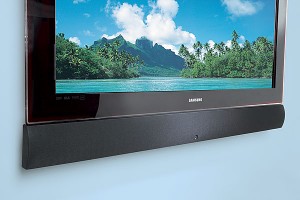 Artison's sleek SB-1 SoundBar gives you engaging home theater sound without the need for separate left, right, and center channel speakers. This sleek three-channel speaker is designed to work with your home theater receiver, and attaches directly to your TV for an unobtrusive look. Best of all, it delivers exceptional sound with all your movies, video games, and music.
A specially designed motor structure allows the SoundBar's small woofer cones to move farther, and reproduce a wider range of frequencies than is usually possible with such compact speakers. Six long-throw woofers and three tweeters deliver crisp dialogue and accurate effects that'll easily surpass what your TV's tiny speakers can deliver. A side-firing tweeter on each end of the SoundBar disperses high frequencies for a wider soundstage with immersive depth.
The SB-1 features a sturdy black aluminum cabinet, and can be mounted above or below a plasma or LCD TV using the included universal mounting bar and your TV's standard wall-mounting holes. You also get a custom grille to match the width and color of your TV, which sits flush with the TV's bezel.